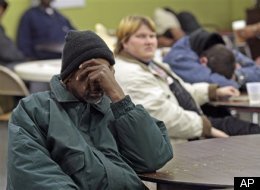 The nation's economic stress fell in September to a 16-month low, and 80% of the nation's 3,141 counties saw some relief from the Great Recession's economic pain, but six states - including my home state of Nevada saw conditions worsen, according to AP's monthly Economic Stress Index.
Nevada again was the most stressed, with a score of 21.93. California with 16.15., Florida with 15.86, Michigan with 15.76 and Arizona with 14.9 rounded out the top five.
Among counties, the Top 10 are dominated by those in Nevada, California, Florida and Arizona. Las Vegas' Clark County was 6th, with a stress index of 23.5.
The AP's index calculates a score for each county and state, from 1 to 100, based on unemployment, foreclosure and bankruptcy rates. A higher score indicates more economic stress. Under a rough rule of thumb, a county is considered stressed when its score exceeds 11.
The average county's Stress score in September was 10, down from 10.3 in August. The last time the average was that low was in May 2009. Just more than one-third of counties were deemed stressed in September, down from 40% in August.
North Dakota remained the economically healthiest state with a score of 3.75. Next came South Dakota (4.78), Nebraska (5.73) and Vermont (5.89). New Hampshire leapfrogged over Wyoming for the No. 5 spot with a score of 6.79.
A glaring exception to lower distress in much of the country was Nevada. It led the nation in September unemployment with a 14.4% rate and also was No. 1 in foreclosures; 6% of homes there were in some stage of the foreclosure process. In addition, Nevada was the leader in bankruptcy filings, too, with nearly 3% of the population in the bankruptcy process.
Still, some hints suggest the worst is nearing an end in Nevada. Gaming revenue has enjoyed a small upswing. And while Nevada's housing market shows no signs of picking up, prices are starting to stabilize,
Stephen Brown, an economist at the University of Nevada, Las Vegas, told the AP.